---
What is aromatherapy?
People commonly think that "aromatherapy" refers to anything that smells good, like scented candles, potpourri, and perfumes. We use the term "aromatherapy" to refer to the therapeutic application of plant essential oils (usually diluted in some type of solution) by qualified individuals.
Why do I need to know about essential oils?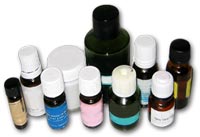 There is a growing body of research from laboratory and clinical studies that points to the remarkable healing properties of essential oils. They are widely available in markets, co-ops, and pharmacies and are increasingly used in clinics and hospitals.

Scents can have a powerful influence on your well-being. When you inhale the fragrance of an essential oil, the aroma penetrates your bloodstream via your lungs, and this is thought to be one of the mechanisms by which aromatherapy exerts its physiological effects.
What are common therapeutic uses?
Here are some common therapeutic uses for a few essential oils:
Grapefruit 

(

Citrus paradisi)

Hangovers, headaches, mental fatigue, and depression.

Peppermint (Mentha piperita)
Headaches, fever, nausea, and fatigue
Lavender (Lavandula angustifolia)
Minor burns, insomnia, pain relief, and wound care
Lemon (Citrus limon

oil)

Fight respiratory infections  from colds, fevers, flu, and asthma.

Bergamot (Citrus bergamia)
Mild antidepressant and tonic
Lime (Citrus aurantifolia)
Relieve stress, exhaustion, and anxiety, or calm your mind
Eucalyptus (Eucalyptus globulus, Eucalyptus radiata, Eucalyptus smithii)
Respiratory infections

Sweet Orange (

Citrus sinensis

)

Has anti-inflammatory

, antiseptic, antidepressant, antispasmodic, and diuretic properties.

Lemongrass (Cymbopogon citratus)
Fungal infections
Rose (Rosmarinus officinalis)

Has analgesic, antibacterial, anticancer, anticatarrhal, antifungal, anti-infection, anti-inflammatory, antioxidant, and expectorant properties.

Tangerine (Citrus reticulata)
Stomach upset and restlessness, particularly in children
What is the difference between "aromatherapy" and "essential oil therapy"?
Basically, these terms mean the same thing. We think the term "aromatherapy" is a bit of a misnomer because it implies that all essential oils smell nice. On the contrary, there are many essential oils that do not have a pleasant odor. While smell is very subjective, German chamomile is an example of an essential oil that does not appeal to many people. Also, the name "aromatherapy" implies that smelling, or inhaling, essential oils is the only way to get therapeutic benefit, but there are actually a number of ways to use essential oils.

While we think the term "essential oil therapy" is a more descriptive name for this topic, we refer to it as "aromatherapy" because it currently has better name recognition.
What are essential oils?

An essential oil is a natural product extracted from a single plant species. Not all plants produce essential oils, and in the plants that do, the essential oil may be found in the roots, stems, leaves, flowers, or fruits.
It is important to note that essential oils do not feel oily; they are called "oils" because they contain the oil-soluble chemicals in the plant (usually 100 to 200 chemicals per essential oil). This complex chemistry gives essential oils their therapeutic properties and explains why different essential oils may have overlapping effects.
How to Use Essential Oils
Some of the most common ways to use essential oils include:

Massaging them (blended with a carrier oil) into your skin
Adding them to bathwater
Using them in a hot compress
Heating them in a diffuser
Rubbing a drop onto pulse points in lieu of perfume

But that's really just the beginning. There are many creative uses for essential oils.

Cleaning sprays and room deodorizers
Making your own cleaning supplies and room deodorizers using essential oils is an excellent alternative to commercial products that may contain any number of hazardous chemicals. For example, for a homemade cleaning scrub with antibacterial activity, simply add a few drops of lavender or tea tree oil to baking soda.

Using a glass grated-cheese container with a stainless steel top that has holes in it makes it easy to sprinkle the baking soda on the surfaces. In lieu of commercial room deodorizers, you can either use an aromatherapy diffuser, or add a few drops of your favorite essential oil to water in a spray bottle.
Freshen laundry
Dryer sheets are notoriously toxic, emitting more than 600 volatile organic compounds (VOCs) through your dryer vent. You can easily freshen your laundry without risking your family's health simply by spritzing your wet laundry with a mix of water and a few drops of essential oil before placing it in the dryer. Alternatively, add a dozen or so drops to an old wool sock, and put it in the dryer with your laundry.
Therapeutic steam baths
To deep clean pores, add a few drops of lavender or eucalyptus to hot water in your sink, then lean over it with a towel draped over your head to capture the steam. This will also help unclog your sinuses if you have a cold. Alternatively, close the drain in your shower and add some eucalyptus essential oils to the pooled water on the floor of the tub to create a soothing steam.
Customized lotions and soap
Synthetic fragrances are a source of allergies, but you can easily customize your own soaps and lotions by adding a few drops of your favorite essential oil to an unscented brand.
Combat pimples
Some essential oils have potent antibacterial activity, can help dry out pimples.
Facial toner
Make your own facial toner by adding a couple of drops of your favorite essential oil to distilled water in a misting bottle.
Insect repellents
Cotton balls soaked in peppermint oil is said to deter insects and rodents.